......................... Rum River Name-Change Movement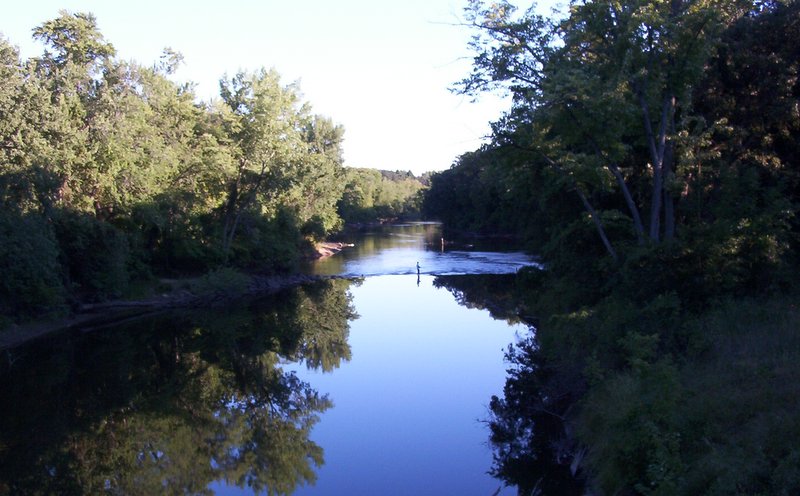 This is the website of the Rum River Name Change Organization, Inc.

Thomas Ivan Dahlheimer is the director of this organization. Tom and his brother Tim are the co-founders of this organization.

Meet Tom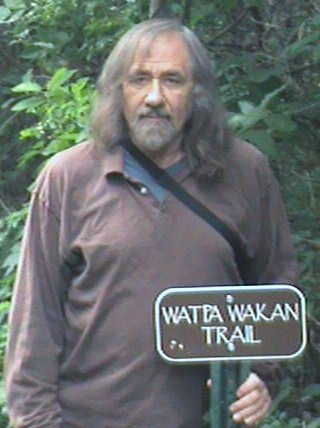 This picture of Tom was taken at Cambridge, Minnesota's Spirit River Nature Area.

The Rum River Name-Change Organization's mission is to change the name of the "Rum River" back to its sacred Dakota name Wakan.

The name Wakan is sometimes spelled Wahkon. Mille Lacs (Wahkon) Lake is where the begining of the headwaters of the "Rum" (Wahkon/Wakan) River are located. And there is a bay located on this lake named Wahkon Bay. There is also a town located on Wahkon Bay named Wahkon. Wahkon, MN is where the headquarters of the Rum River Name Change Organization are located. The Minnesota Natural Resources Conservation Service uses the term "Rum (Wahkon) River Watershed" to name this river's watershed.

This sacred river currently has the faulty-English-translation name Rum, it is a profane name; and because this river is a sacred Dakota place, this movement is part of a larger movement, a national movement, to restore Native names to sacred places.

The Dakota name for this river is Watpa Wakan or Wakpa Wahkon. When translated into English these two names both mean Spirit River.

During a public hearing the county commissioners of the four counties in which the river runs through would (if they decide to change the name) determine what the river's new name would be and how it would be spelled. They would decide if it would be spelled Wakan or Wahkon. Or they could decide to name it Spirit River or give it some other name. Also, the U.S. Board on Geographic Names would have to approve their new name choice before the current name for the river would be changed. We were originally seeking to change the river's name back to its sacred Dakota name (spelled) Wahkon.

More information on how the geographic place name-changing process works can be found in our director's on-line letter entitled Open Letter To County Commissioners Pondering Rum River Name-Change Effort.

When referring to this river and the Isanti (Dakota) Indians, an interpretive sign at the Cambridge, Minnesota Spirit River Nature Area reads: The Rum River was the super highway of the Isanti Indians. To them this important waterway was known as Watpa Wakan, the Great Spirit River, until a white man's pun turned "spirit" into "rum."

The Great Spirit or Wakan is the supreme divine spirit, or mystical force that not only permeates the whole world but also transcends the world and is infinite. Among the Dakota the term Wakan is used to denote all that is mysterious or divine.

"Wakan Tanka or Wakan is also known as Wakanda in the Omaha-Ponca, Ioway-Otoe-Missouri, Kansa and Osage languages; and Wakatakeh in Quapaw." ref.

The Dakota/Lakota/Nakota or Sioux name for the Great Spirit is sometimes spelled Wahkon or Wahkon-Tonka.

The Dakota's wakan is the essence of all life, pervading all nature, animate and inanimate. It is also everything that is sacred in the spiritual and material worlds. Various terms are used to describe it, such as holy, sacred, mysterious, spirit and spiritual. Spirits and gods are embodied within it. And it has many names: Wakan, Tunkashila, Taku SkanSkan, Wakan Tanka, Great Spirit and Grandfather.

Therefore, the word wakan in the name Watpa Wakan can be translated to mean holy, sacred, spirit, mysterious and Spirit or Great Spirit. Thus, various translations, such as "Holy River", "Sacred River", "Mysterious River", "Spirit River" and "Great Spirit River" have been give to this river.

In the book Minnesota Geographic Names: Their Origins and Historic Significances, published by the Minnesota Historical Society, its author Warren Upham wrote, when referring to the Dakota or Sioux: "Their name of Mille Lacs, Mde Wakan, translated Spirit lake, was given to its river, but was changed by the white man to the most common spirituous liquor brought into the Northwest, rum, which brought misery and ruin to many of the Indians." ref.

In the same book Upham wrote that the Rum river, "a badly named river," was given its current name by a "punning translation" of the sacred Sioux name for the river. And that the name Rum is "the white men's perversion of the ancient Sioux name Wakan." ref.

Upham made it clear that he believed the name Rum , "...rum, which brought misery and ruin...", is incompatible with the sacred Dakota name for the river...and that because the name Rum is "a punning translation" name, a profane name, or "the white men's perversion of the ancient Sioux name Wakan", that this was another reason why the name Rum is incompatible with the river's sacred Dakota name Wakan. ref.

When referring to the name Wakan and a Siouan subtribe, the Mdewakantons, Upham wrote: "Wakan island, noted on a following page for the present village of Wahkon, was the source of the name Mde Wakan, to the lake and to this great subtribe of the Siouan people , and was accountable, by a punning translation, for the Rum river, the outlet of this lake...and Spirit island...Wonderful as this island is, it was the origin of the Sioux name of the lake, of this village, and, by a punning perversion noted on a later page, the name of Rum river."

In 2016, Indian Country Today Media Network, the world's largest Indian news source, published two articles by world-renowned Indigenous/Indian activists that have our director's comments on them about the contemperary movement to change the name of the "Rum River." The first article has one comment on it and the other article has seven selective comments on it. The second comment is by our director, Tom.

The following picture is of Chief Leonard E. Wabasha and his interpretive sign statement at Mille Lacs Kathio State Park. In his statement, Chief Wabasha refers to the "Rum River" as [Spirit River]. Chief Leonard Wabasha's people are the Mdewakanton Dakota Oyate, this is one of the four sub-tribes of the Isanti Indians. Wabasha supports the current effort to restore the sacred Dakota name [Wakan] to the badly named "Rum River."

To view a larger picture of Wabasha's sign click here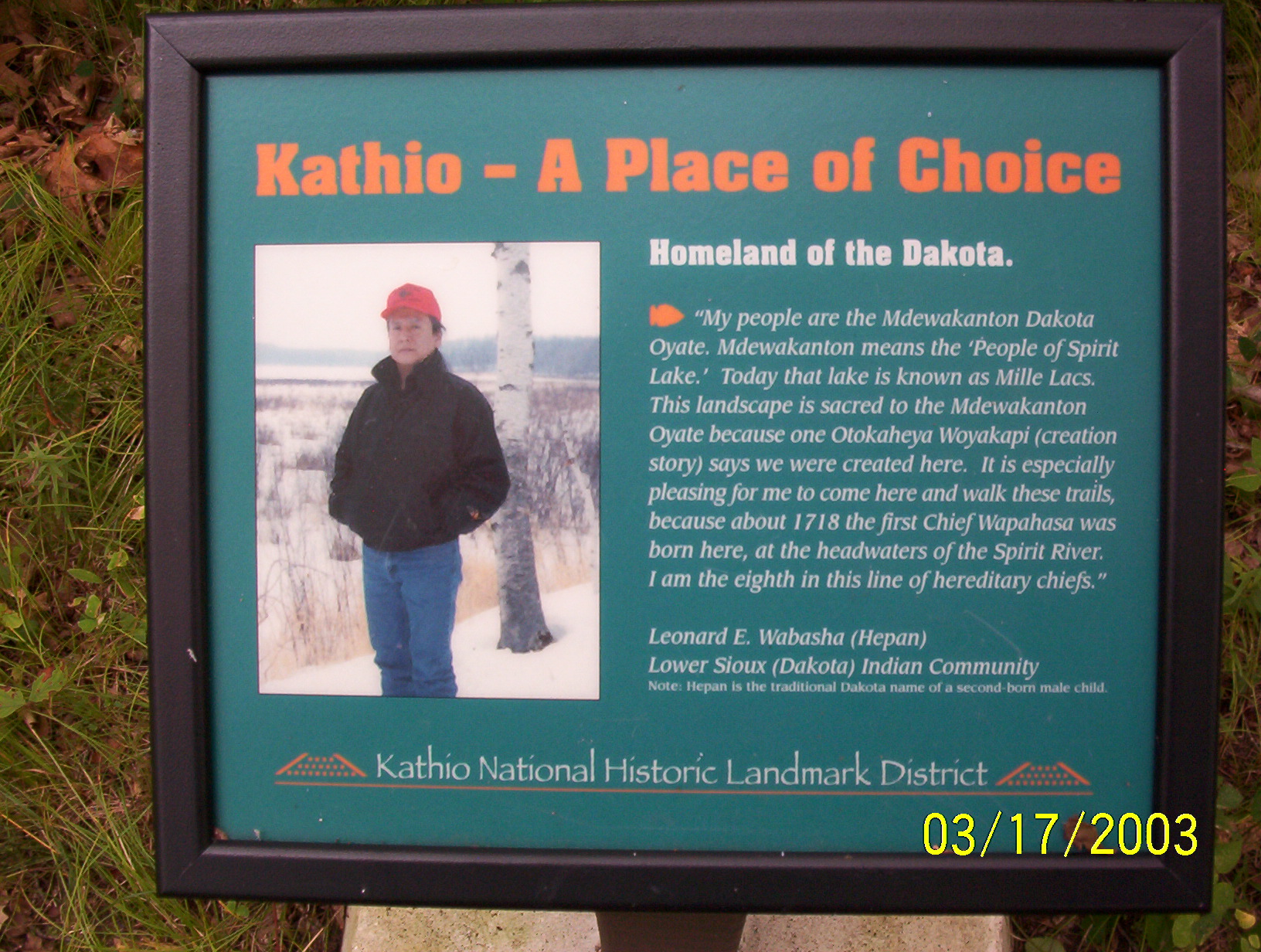 In the Mendota Mdewakanton Dakota Community's letter of support Jim Anderson, the cultural chair and historian for his Dakota community, wrote:

"I believe that renaming the river 'Wakpa Wakan' or 'Spirit River' is a great stride in mending the circle that we share with all four colors of man. We, as Dakotas, are very happy that there are people out there that are trying to understand that by using names like "rum" and "devil" to label sacred sites and places is degrading to our children, our elders and also to our ancestors. These places were already named in our language by our people because of their special meaning. When we have to tell our children why these places have been named after a poison or the worst words in their language. It is demoralizing to us to have to explain why a place is named after the same things that helped to steal our land and language."

In his autobiography 1706-1757 (Chapter 8) Benjamin Franklin wrote:

"And, indeed, if it be the design of Providence to extirpate these Savages in order to make room for cultivators of the Earth, it seems not improbable that rum may be the appointed means." An article by our director on this topic is titled A History Of The Dakota People Minnesota.

This movement was started about twenty years ago and now-days...all up and down the river - parks, trails, businesses, and even a city street sign have been named Spirit River, such as Spirit River Drive, which was originally named West Rum River Drive. ref.

There is even a Cambridge, Minnesota city nature area [Spirit River Nature Area] with a trail named [Watpa Wakan Trail], it translates as Spirit River Trail, or Great Spirit River Trail. The Dakota words watpa and wakpa, when translated into English, mean river.

The following picture is of Jim Anderson, former Chairman of the Mendota Mdewakanton Dakota Community (MMDC) and a leading MN Dakota activist. To read the MMDC letter supporting the name-change effort click here.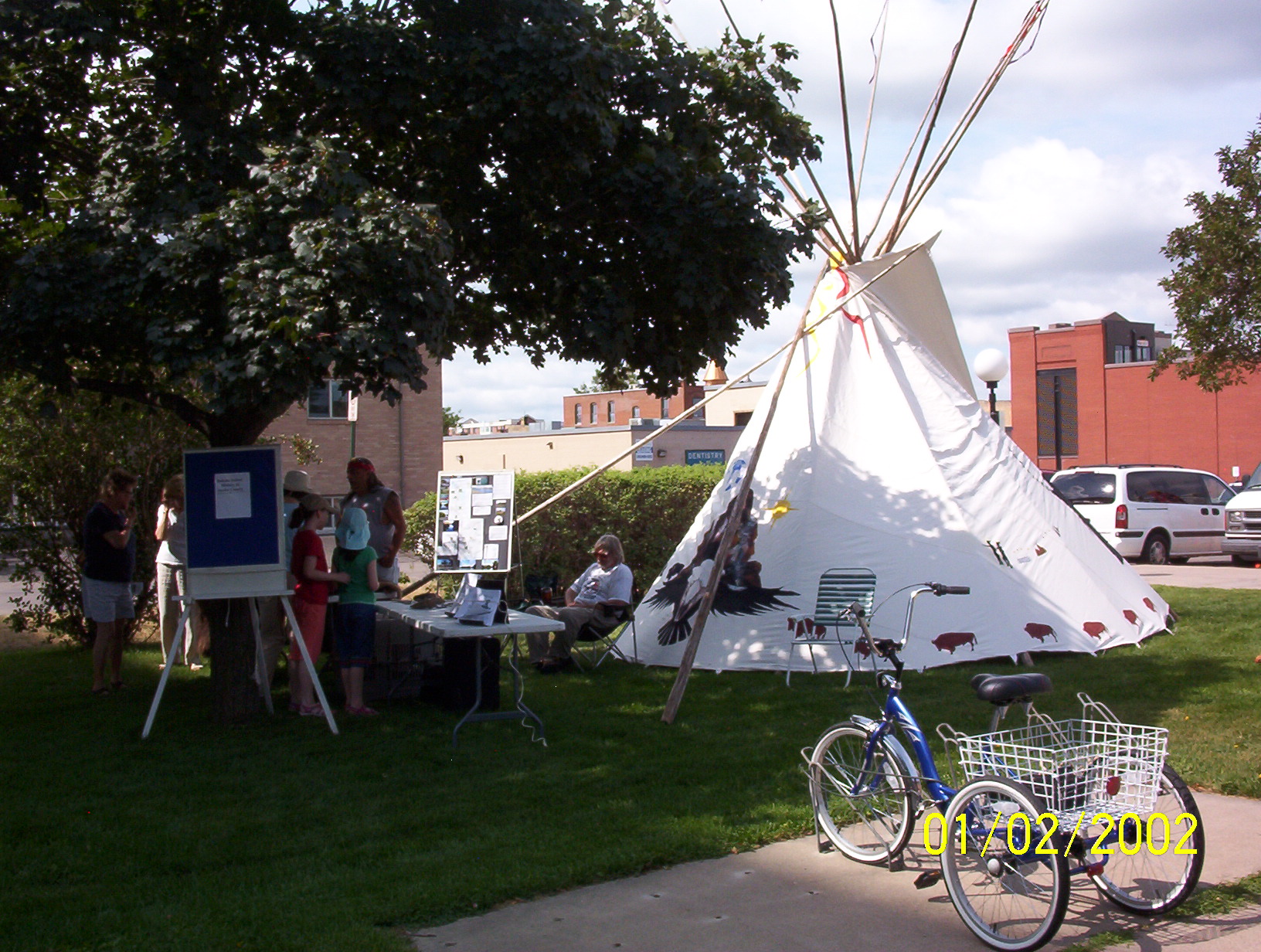 This picture of Jim Anderson and his tepee was
taken in Anoka, Minnesota, near the confluence of the
"Rum" and Mississippi rivers.

Links To Pages
Why Restore The Sacred Dakota Name To This River
Mission
Get Involved!
Supporting Documents
Mendota Mdewakanton Dakota Community's letter of support
Dakota group canoed the "Rum River" to connect with the past and to reclaim the river
News
My river pictures ...MN DNR river pictures
River videos
2007 Minnesota bill to rename the "Rum River" and 13 other offensive names
Recent comments
Minnesota name-change precedents
Articles

Our effort to restore the sacred Dakota name to the "Rum River" has received support from two Mdewakanton Dakota communities as well as many organizations and prominent individuals. A list of all suppoters is located here.

If you wish to give your support and/or make a comment Click Here

-------Tom's cell phone number: 320-279-7383

-------Send letters of support to:
-------Thomas Ivan Dahlheimer
-------P. O. Box 24
-------Wahkon, MN 56386

-------E-mail Address: wahkonrainbow@gmail.com

-------Copyright © Tom Dahlheimer
-------Revised 4/15/2013
-------Url: http://towahkon.org